Blue Ribbon Dive Resort is located on the Mabini peninsular, just a few hours drive from Manila.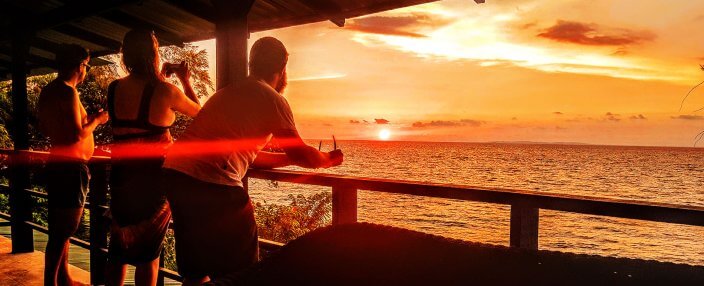 Blue Ribbon Dive Resort moved it's business from Puerto Galera to Anilao in 2018, seeking better diving opportunities. With 10 years of experience running a busy resort in PG, the business moved to Anilao with a lot of its old staff, bringing with it the family feel, along with professionalism and care.
Anilao is often debated to be the top dive destination for muck diving, with a vast number of critters most sought out by underwater photographers. Anilao and the neighboring Tingloy island also has world-class Coral reef diving, with some exceptional sites close to the resort and a little further away. The Verde Island passage brings clear waters to Tingloy, and its famous Sombrero island, offering some amazing coral dives with some exceptional visibility.
Blue Ribbon Dive Resort caters to all divers, even soon to be divers. We are a PADI 5 Star dive resort that trains students up slowly and at their own pace, making sure they are safe competent divers by the end of their course. We have multiple full-time instructors, and full time certified divemasters…which is rare in Anilao.
We also largely cater for regular fun divers looking to get wet and see either the coral or macro, as well as the underwater photographers, where we can organize private spotters and allow photographers to improve their art.
Jon, one of the owners is a professional underwater photographer and videographer and has worked on a few Blackwater Documentaries, as well as won a few photography competitions. Jon teaches underwater photography classes and is always around to give some hints and tips. We also have a nice size camera room to look after all your camera gear, with aircon, and air guns, and also a dehumidifier fridge.
Blue Ribbon is Back open, under new health and safety guidelines due to the Pandemic
We are allowed to open to 50% occupancy, and have added many safety measures to minimize the risk of covid transmission.
Our Bar and Restaurant has strict safety distancing, with plastic screens at the bar, also at reception.
We have masks available to all and gloves to all guests, both fabric and medical masks.
We have alcohol all around the resort to keep hands sanitized. We have disinfectant all over the resort, of different kinds, some good for dive equipment, some good for kitchen surfaces etc.
We want to protect our guests and our staff in the water and out the water. We can bring food to your rooms if you would rather eat there. We will also keep social distancing on the dive boat. Underwater It doesn't matter so much 🙂
Dive equipment if rented will be disinfected after use, and everyone can have their own new mouthpiece. We would probably recommend buying your own mask and not using the rental masks, though ours will be disinfected anyways.
We want to keep Mabini safe from Covid also. Only areas under MGCQ are allowed to visit, and no one under 21 years of age and over 60. We will require proof of address and temperature screenings on entry to the resort. If you have a fever you will not be allowed into the resort and we will direct you to the nearest medical facility.
We look forward to diving with you, besides, the safest place to be from Covid has to be under the sea?