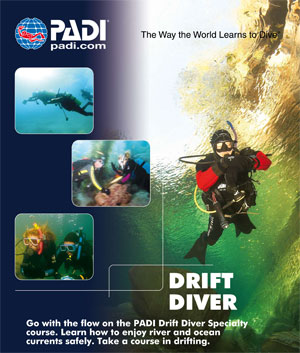 The PADI Drift Diver Specialty course introduces you to the coolest magic carpet ride you'll ever experience. This course shows you how to enjoy rivers and ocean currents by "going with the flow," staying with your dive partner, communicating with the dive boat and knowing where you are the whole time.
Drift Diving is nearly effortless and relaxing. You simply glide along and enjoy the rush of flying underwater while the current does the work.
What you will learn:
The planning, organization, procedures, techniques, problems and hazards of drift diving.
Special equipment — floats, lines, reels.
Proper procedures for buoyancy-control, navigation and communication.
Site selection and overview of aquatic currents causes and effects.
Techniques for staying close to a buddy or together as a group.
Gliding with the currents, feeling the rush of flying underwater, is what drift diving is all about.
Prerequisites:
To start your underwater aeronautics, you'll need to be at least a Open Water Diver (Junior Open Water Diver or equivalent) certified and at least 12 years old.
During your Drift Diver program, you'll go on two open water dives (which may be conducted in one day).
The elective Drift Dive from the Adventures In Diving program may be counted toward the certification requirements for this specialty at the discretion of your Instructor.